Preview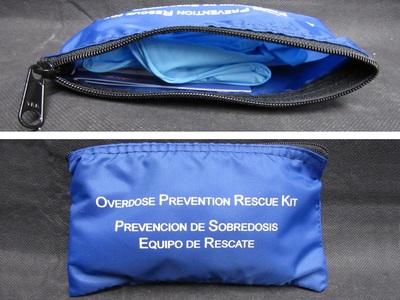 Creative Commons License


This work is licensed under a Creative Commons Attribution-Noncommercial 4.0 License
Description
This is an overdose prevention rescue kit. The kit is housed in a blue nylon bag with zipper and continues the following items:
1 Pair of blue rubber gloves
1 rescue breathing face shield
2 Webcol alcohol wipes
2 McKesson Syringe's with safety needles
1 A reporting from New York State
1 A What to do if someone has overdosed sheet
1 Pamphlet: How to Use Naloxone for Opioid Overdose
1 Certificate of Completion for NYS Approved Opioid Overdose Prevention Program
2 One dose bottles of Naloxone HCL
Item Type
medical equipment
Dimensions Notes
All measurements were taken in centimeters. Measurements are listed as "length by width by height" or "height by diameter" unless otherwise noted.
Recommended Citation
The Barbara H. Hagan School of Nursing: Historical Collection. (2018). "Overdose Prevention Rescue Kit - 1" [Photograph]. Retrieved from https://digitalcommons.molloy.edu/nur_hagan/948