Preview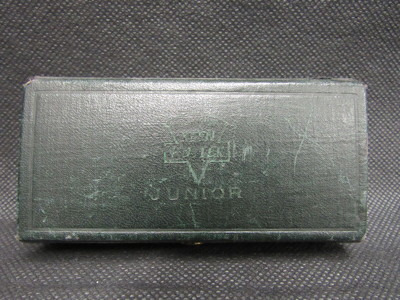 Title
Creative Commons License


This work is licensed under a Creative Commons Attribution-Noncommercial 4.0 License
Description
Nursing Uniform Buttons, ranging from about the American Civil War to the end of World War One. These buttons are made from an array of materials. The three white buttons with red crosses are marked on their backside. Two out of three are marked with the following phrase: "Pat. Jan 1917 No 1215675 J. L. Lynch Chicago Ill." The box holding the buttons was produced by E.C. Simmons Keen Kutter Junior and is made from leather and felt.
Dimensions
10.3 cm X 5.4 cm X 2.5 cm
Dimensions Notes
All measurements were taken in centimeters. Measurements are listed as "length by width by height" or "height by diameter" unless otherwise noted.
Recommended Citation
The Barbara H. Hagan School of Nursing: Historical Collection. (2017). "Nursing Buttons - 1" [Photograph]. Retrieved from https://digitalcommons.molloy.edu/nur_hagan/90