Preview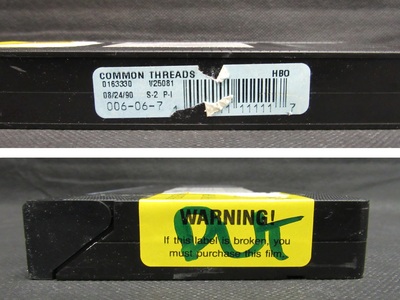 Creative Commons License


This work is licensed under a Creative Commons Attribution-Noncommercial 4.0 License
Description
This is an Aids documentary and audio CD. The documentary VHS was produced in 1989 and is entitled Common Threads: Stories from the Quilt, narrated by Dustin Hoffman. The VHS itself was released on HBO Video and has store labels on the tape from the video store Blockbuster (1985 - 2013). The audio CD was released in 2007 and is entitled Singing for Life: Songs of Hope, Healing, and HIV/AIDS in Uganda. The CD was produced by Smithsonian Folkways Recordings and still remains sealed.
Dimensions
10.6 X 2.6 X 19, 14.3 X 1 X 12.5
Dimensions Notes
Audio and visual object measurements are from left to right. All measurements were taken in centimeters. Measurements are listed as "length by width by height" or "height by diameter" unless otherwise noted.
Recommended Citation
The Barbara H. Hagan School of Nursing: Historical Collection. (2018). "Audio Visual Material - 3" [Photograph]. Retrieved from https://digitalcommons.molloy.edu/nur_hagan/848