Preview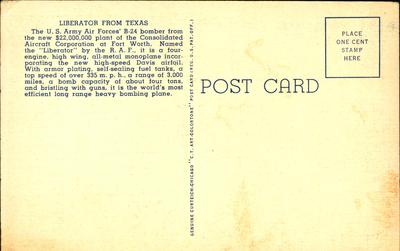 Title
Creative Commons License


This work is licensed under a Creative Commons Attribution-Noncommercial 4.0 License
Description
This is an original postcard produced by the Curteich company located in Chicago.
This postcard is described as a "C.T. Art- Colortone" postcard. The front of the card features the B-24 Liberator and an image of the State of Texas. The following phrase is also written on the front. "Howdy! From deep in the heart of Texas." A tag that reads "Bound For Tokyo" hangs off the nose of the B-24. The Back of the postcard contains a description of the B-24 Liberator.
Dimensions Notes
All measurements were taken in centimeters. Measurements are listed as "length by width by height" or "height by diameter" unless otherwise noted.
Recommended Citation
The Barbara H. Hagan School of Nursing: Historical Collection. (2018). "Postcard W - 1" [Photograph]. Retrieved from https://digitalcommons.molloy.edu/nur_hagan/751