Preview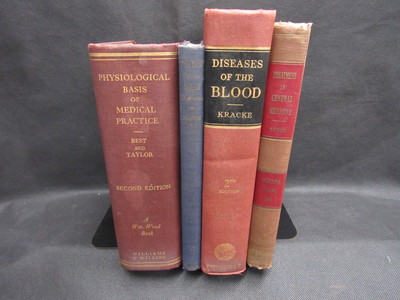 Title
Creative Commons License


This work is licensed under a Creative Commons Attribution-Noncommercial 4.0 License
Description
The books pictured are listed below in order from left to right.
Best, C. H., & Taylor, N. B. (1939). The Physiological Basis of Medical Practice (2nd ed.). Baltimore, MD: The Williams & Wilkins Company.
Spurling, R. G. (1940). Practical Neurological Diagnosis (2nd ed.). Springfield, IL: Charles C Thomas.
Kracke, R. R. (1941). Diseases of the Blood and Atlas of Hematology (2nd ed.). Philadelphia, PA: J. B. Lippincott Company.
Reimann, H. A. (Ed.). (1943). Treatment in General Medicine . Philadelphia, PA: F. A. Davis Company.
Dimensions
17 X 7.4 X 23.5, 15.1 X 2.2 x 23.5, 19.2 X 5.5 X 26.2, 18.3 X 3 X 24.8
Dimensions Notes
Book measurements are from left to right. All measurements were taken in centimeters. Measurements are listed as "length by width by height" or "height by diameter" unless otherwise noted.
Recommended Citation
The Barbara H. Hagan School of Nursing: Historical Collection. (2018). "Books 1939 - 1949" [Photograph]. Retrieved from https://digitalcommons.molloy.edu/nur_hagan/697