Preview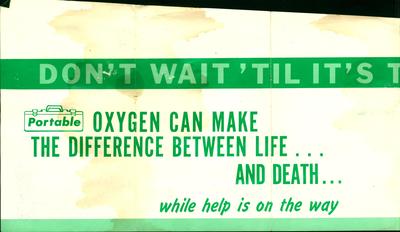 Creative Commons License


This work is licensed under a Creative Commons Attribution-Noncommercial 4.0 License
Description
This is an advertisement for the Mada emergency Oxygen Madasphere. The advertisement states the benefits of portable oxygen, the exclusive features offered in the Madasphere, and why the Madasphere is superior to other products. This advertisement was found inside the Portable Oxygen Kit in the collection.
To view the portable oxygen kit, Mada refill adapter, or Mada oxygen papers please click on the links below.
Dimensions Notes
All measurements were taken in centimeters. Measurements are listed as "length by width by height" or "height by diameter" unless otherwise noted.
Recommended Citation
The Barbara H. Hagan School of Nursing: Historical Collection. (2018). "Advertisement: Mada Oxygen - 2" [Photograph]. Retrieved from https://digitalcommons.molloy.edu/nur_hagan/654