Preview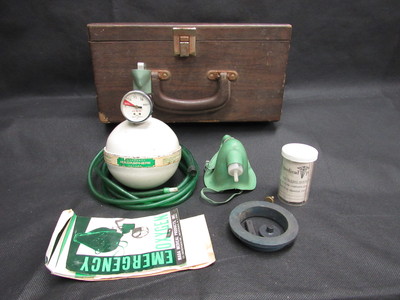 Title
Creative Commons License


This work is licensed under a Creative Commons Attribution-Noncommercial 4.0 License
Description
This is a portable oxygen kit produced by Mada Medical Products Inc. located in New Jersey. The kit is housed in a wooden box with the words "Mada Medical Emergency Oxygen" engraved on the outside cover of the box. The oxygen tank is white and spherical shaped with a label which reads "Emergency Madasphere Oxygen" and a pressure gauge is attached to the top of the sphere. A mask, extension tube, refill adapter #1306 with instructions (not the #109 original stated in the directions), various other metal and rubber pieces (including tank stand), as well as a damaged decal, warranty, advertisement and handwritten notes are all contained in the kit as well.
To view the refill adapter (with directions), the papers (instructions, warranty, notes, and decal) and advertisement found in this kit please click on the links below.
Item Type
medical equipment
Dimensions
30.7 X 15.5 X 15.5
Dimensions Notes
All measurements were taken in centimeters. Measurements are listed as "length by width by height" or "height by diameter" unless otherwise noted.
Recommended Citation
The Barbara H. Hagan School of Nursing: Historical Collection. (2018). "Portable Oxygen Kit - 1" [Photograph]. Retrieved from https://digitalcommons.molloy.edu/nur_hagan/647