Preview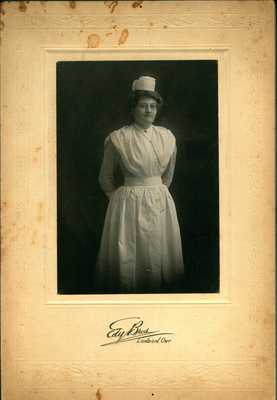 Title
Description
Matted photograph of a Nurse. Presumed to be Miss Sarah Harloins as that name is written on the back of the portrait as well as the following message in red ink : "Miss Sarah Harloins I called her "mother," a good friend in training."
The mat of the photograph is embossed with a design around the image. Edy Bros London Ont. is printed at the bottom of the mat as well.
Dimensions
16.6 x 24.3 x 0.3
Dimensions Notes
All measurements were taken in centimeters. Measurements are listed as "length by width by height" or "height by diameter" unless otherwise noted.
Creative Commons License

This work is licensed under a Creative Commons Attribution-Noncommercial 4.0 License
Recommended Citation
The Barbara H. Hagan School of Nursing: Historical Collection. (2017). "Nurse Portrait B" [Photograph]. Retrieved from https://digitalcommons.molloy.edu/nur_hagan/64