Preview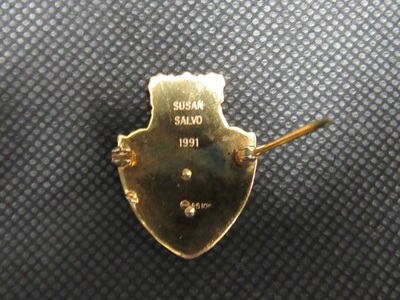 Creative Commons License


This work is licensed under a Creative Commons Attribution-Noncommercial 4.0 License
Description
This is a Molloy College Nursing Pin which graduates of the nursing program receive at graduation. The graduate's name and year of graduation appears on the back of the pin. This pin was presented to Susan Salvo in 1991.
The Molloy College Nursing Pin was designed by the first graduates of the nursing program. The shield shape represents the Coat of Arms of the Sisters of St. Dominic. The shield is bordered in a black banner with the name Molloy College (Originally Molloy Catholic College for Women) written in gold.
The caduceus shown in the center of the shield was originally a single staff entwined with one snake (representing wisdom) and was a symbol of ancient healers. Today the caduceus has developed into the one depicted on the pin.
On top of the Caduceus is a cross which represents Molloy's Catholic heritage and above that, the Book of Knowledge charged with the Greek letters Alpha & Omega symbolizes Christ as the beginning and the end. Finally, the crown atop the pin stands for Mary's crown, representing Our Lady of Confidence. The wearer of this pin pledges themselves to fulfill the philosophy of the Molloy College Division of Nursing.
To view an earlier Molloy college nursing pin from 1963 please click on the link below.
Dimensions
2.4 X 0.8 X 3.7
Dimensions Notes
All measurements were taken in centimeters. Measurements are listed as "length by width by height" or "height by diameter" unless otherwise noted.
Recommended Citation
The Barbara H. Hagan School of Nursing: Historical Collection. (2017). "Nursing Pin: Molloy College B -1" [Photograph]. Retrieved from https://digitalcommons.molloy.edu/nur_hagan/605