Preview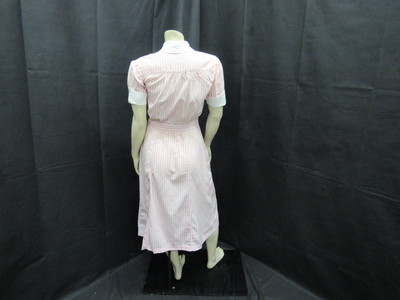 Description
This is a student uniform from Molloy College. The dress is made from a pink and white striped cotton fabric, while the apron, collar, and cuffs are all made from a white starched cotton fabric.All items were produced by Bruck's Quality Uniforms. This uniform is presumed to be originally owned by an "E. Reisert" as this name appears on the inside of the neckline and here initials appear on the inside of the associated Nurses cape. The apron shown (in additional view 3) begins at the waist and end at the bottom of the dress. Traditionally a name tag pin (not shown here) would have been worn on the upper left side of the dress at this time.
To view an original Molloy College Nurse Cape please follow the link below.
Dimensions Notes
Dimension is taken from dress size listed on the inside manufacturers label. All measurements were taken in centimeters. Measurements are listed as "length by width by height" or "height by diameter" unless otherwise noted.
Creative Commons License

This work is licensed under a Creative Commons Attribution-Noncommercial 4.0 License
Recommended Citation
The Barbara H. Hagan School of Nursing: Historical Collection. (2017). "Uniform: Molloy College B - 1" [Photograph]. Retrieved from https://digitalcommons.molloy.edu/nur_hagan/521