Preview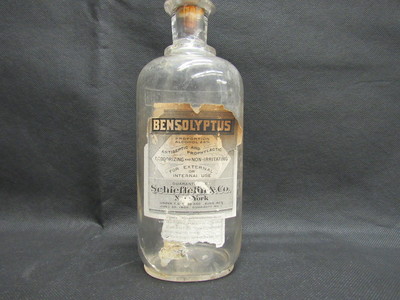 Description
Alcohol Tincture Bottle (G-3)
Bensolyptus- An antiseptic and prophylactic. Deodorizing and non-irritating for external or internal use. It was also used as a mouth wash and dentifrice, a valuable addition to the toilet, and a reliable antiseptic for the dental surgeon.
Guaranteed by Schieffelin & Co. Made in New York.
Item Type
medical equipment
Dimensions
7.6 x 5.7 x 19.9
Dimensions Notes
All measurements were taken in centimeters. Measurements are listed as "length by width by height" or "height by diameter" unless otherwise noted.
Creative Commons License

This work is licensed under a Creative Commons Attribution-Noncommercial 4.0 License
Recommended Citation
The Barbara H. Hagan School of Nursing: Historical Collection. (2017). "Bottle: Alcohol Tincture B" [Photograph]. Retrieved from https://digitalcommons.molloy.edu/nur_hagan/48