Preview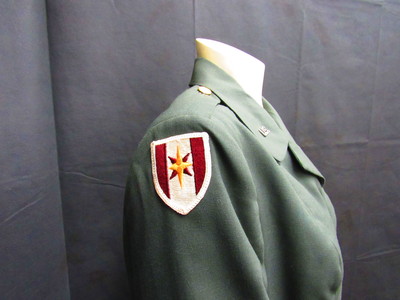 Description
This is a U.S. Army Nurse Class A uniform worn daily as business attire. It is made from a dark green cotton fabric which is lined in a green silk. The uniform is made up of a blazer jacket and a skirt. The two collar pins on the blazer indicate that the uniform belonged to a member of the Regular U.S. Army and was part of the Nurses Corps Medical Division. The patch on the wearer's right sleeve indicates that they are part of the 44th Medical Brigade, while the patch on the wearer's left sleeve indicates that are part of the U.S. Army Health Services Command.
The two skirts found with this uniform are both different sizes. One skirt was marked 18 S and has a tag that indicates that it meets or exceeds the requirements needed for the style (Shown in Photograph). The other skirt has a tag marked stock 14 long and someone wrote in the organization field the word "Mom."
To view the inside labels of the skirts please follow the link below.
Creative Commons License


This work is licensed under a Creative Commons Attribution-Noncommercial 4.0 License
Recommended Citation
The Barbara H. Hagan School of Nursing: Historical Collection. (2017). "Uniform: US Army Nurse (Class A) - 2" [Photograph]. Retrieved from https://digitalcommons.molloy.edu/nur_hagan/475