Preview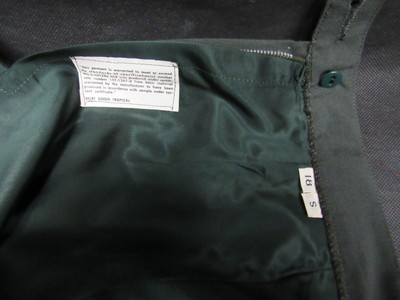 Description
This is the inside tags from the two skirts found with the U.S. Army Nurse Class A uniform. One skirt is marked 18 S and has a tag that indicates that it meets or exceeds the requirements needed for the style. The other skirt has a tag marked stock 14 long and someone wrote in the organization field the word "Mom."
To view the full uniform please follow the link below.
Dimensions
One is 18 S and the other is Stock 14 Long
Dimensions Notes
Measurements are in skirt size. All measurements were taken in centimeters. Measurements are listed as "length by width by height" or "height by diameter" unless otherwise noted.
Creative Commons License


This work is licensed under a Creative Commons Attribution-Noncommercial 4.0 License
Recommended Citation
The Barbara H. Hagan School of Nursing: Historical Collection. (2017). "Uniform: US Army Nurse Skirt (Class A)" [Photograph]. Retrieved from https://digitalcommons.molloy.edu/nur_hagan/473