Preview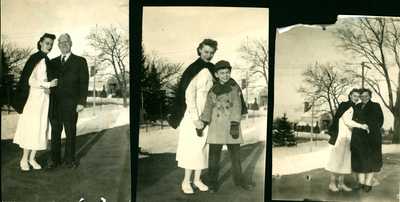 Description
These are three photos of Barbara Bishop and what appears to be her father, mother, and younger brother outside their home in Syracuse, New York. In these photos, Barbara Bishop is wearing her nursing uniform and her nursing cape from St. Joseph's College of Nursing. It is possible these photos were taken on the day she received her nursing cape and cap.
To find out more about Barbara Bishop please follow the links below.
Uniform: "Barbara Bishop" Cape
Dimensions
6 x 9.3, 5.8 x 9, 5.9 x 8.6
Dimensions Notes
Measurements are from left to right. All measurements were taken in centimeters. Measurements are listed as "length by width by height" or "height by diameter" unless otherwise noted.
Creative Commons License

This work is licensed under a Creative Commons Attribution-Noncommercial 4.0 License
Recommended Citation
The Barbara H. Hagan School of Nursing: Historical Collection. (2017). "Barbara Bishop: Family Photos" [Photograph]. Retrieved from https://digitalcommons.molloy.edu/nur_hagan/466