Preview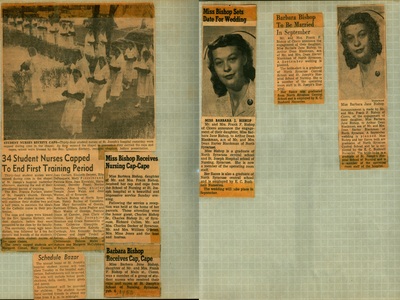 Description
This is a family photo album which was discovered inside Barbara Bishop's Cape and appears to contain newspaper clippings, memorabilia, and photos of her life, from childhood to completing her nursing program at St Joseph's College of Nursing, to getting married to Arthur Dean Blackman. The pages displayed here are either pertaining to her nursing degree or of her in her nurses uniform.
To see more about Barbara Bishop please follow the links below.
Uniform: "Barbara Bishop" Cape
Dimensions
22.5 X 2.4 x 26.9
Dimensions Notes
All measurements were taken in centimeters. Measurements are listed as "length by width by height" or "height by diameter" unless otherwise noted.
Creative Commons License

This work is licensed under a Creative Commons Attribution-Noncommercial 4.0 License
Recommended Citation
The Barbara H. Hagan School of Nursing: Historical Collection. (2017). "Barbara Bishop: Photo Album - 3" [Photograph]. Retrieved from https://digitalcommons.molloy.edu/nur_hagan/462