Preview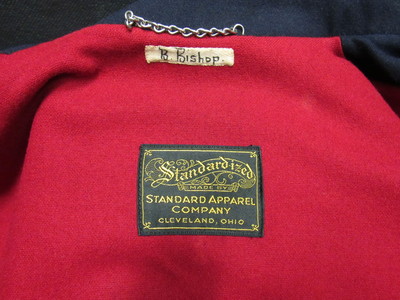 Description
This nursing cape was owned by Barbara Bishop a 1952 graduate of St Joseph's College of Nursing. The cape was first officially worn by her on February 6, 1950, during a ceremony in the chapel of the College, where she and 33 other students were given their nursing capes and caps official. This recognized that they had completed their pre-clinical training. Before the ceremony, the cape was blessed by Rev. Ignatius Slattery, the resident chaplain at St. Joseph's College at the time.
This cape is made from dark blue wool and is lined in bright red wool and was produced by the Standard Apparel Company located in Cleveland, Ohio. The ST.J.H. on the collar stands for St Joseph's Hospital and the name B. Bishop is written on a piece of fabric sew on the inside neckline.After obtaining this cape, it was discovered that there was a family photo album hidden inside. Relevant images have been included and can be found in the links below.
To find out more about Barbara Bishop please follow the following links.
Dimensions Notes
All measurements were taken in centimeters. Measurements are listed as "length by width by height" or "height by diameter" unless otherwise noted.
Creative Commons License

This work is licensed under a Creative Commons Attribution-Noncommercial 4.0 License
Recommended Citation
The Barbara H. Hagan School of Nursing: Historical Collection. (2017). "Uniform: "Barbara Bishop" Cape - 2" [Photograph]. Retrieved from https://digitalcommons.molloy.edu/nur_hagan/459