Preview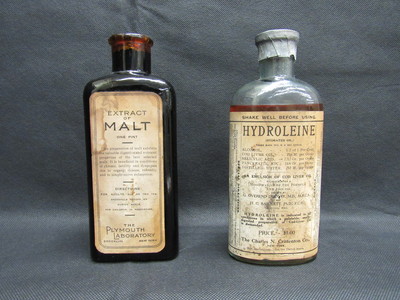 Creative Commons License


This work is licensed under a Creative Commons Attribution-Noncommercial 4.0 License
Description
Digestion Medicine Bottles (G-2, G-4)
These bottles hold medicines that would have been used for treating digestion issues in the 19th century.
Extract of Malt (g-2): Produced by the Plymouth Laboratory in Brooklyn, New York.
Hydroleine (Hydrated Oil.) (G-4): An emulsion of cod liver oil. Produced by the Charles N. Crittenton Co., New York, Sole Manufacturer for the United States
Item Type
medical equipment
Dimensions
7.6 x 5.2 x 20, 8.2 x 4.6 x 19.5
Dimensions Notes
Bottle measurements are from left to right. All measurements were taken in centimeters. Measurements are listed as "length by width by height" or "height by diameter" unless otherwise noted.
Recommended Citation
The Barbara H. Hagan School of Nursing: Historical Collection. (2017). "Bottles: Digestion Medicine" [Photograph]. Retrieved from https://digitalcommons.molloy.edu/nur_hagan/44