Preview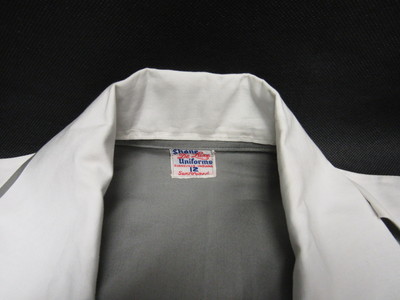 Description
This is an American Red Cross Volunteer Hospital and Recreation Service Uniform for indoor use. The light grey cotton fabric and white cotton epaulets, collar and cuffs all indicate that this uniform was worn by the Hospital and Recreation branch of the Red Cross, affectionally referred to as the "grey ladies" by wounded servicemen. The Red Cross insignia is sewn onto the upper left pocket of the dress. The uniform dress, belt, and matching cap are all made from the same cotton fabric. The dress itself was produced by "Shane De Luxe uniforms" located in Evansville, Indiana. The uniform label is marked with the number 12 presumable indicating its size.
The Nurse Cap associated with this uniform can be found by clicking the link below.
Dimensions Notes
Measurement is presumed to be in dress size. All measurements were taken in centimeters. Measurements are listed as "length by width by height" or "height by diameter" unless otherwise noted.
Creative Commons License

This work is licensed under a Creative Commons Attribution-Noncommercial 4.0 License
Recommended Citation
The Barbara H. Hagan School of Nursing: Historical Collection. (2017). "Uniform: American Red Cross Volunteer C - 2" [Photograph]. Retrieved from https://digitalcommons.molloy.edu/nur_hagan/425