Preview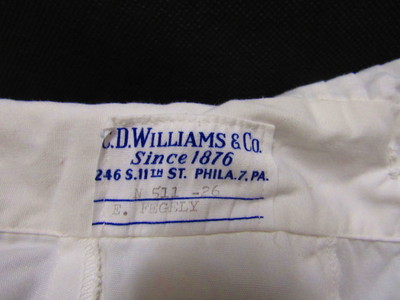 Creative Commons License


This work is licensed under a Creative Commons Attribution-Noncommercial 4.0 License
Description
This is presumed to be a nurse uniform worn by "E. Fegely" as the tag on the inside of the dress has that name written onto it.
The dress is made from a white cotton fabric with pleats on the upper half of the dress. According to the tag, the dress was produced by C.D. Williams & Co. which was located at 246 S. 11th Street in Philadelphia, Pennsylvania, and was established in 1876.
Dimensions Notes
All measurements were taken in centimeters. Measurements are listed as "length by width by height" or "height by diameter" unless otherwise noted.
Recommended Citation
The Barbara H. Hagan School of Nursing: Historical Collection. (2017). "Uniform: Nurse "E. Fegely" - 2" [Photograph]. Retrieved from https://digitalcommons.molloy.edu/nur_hagan/414