Preview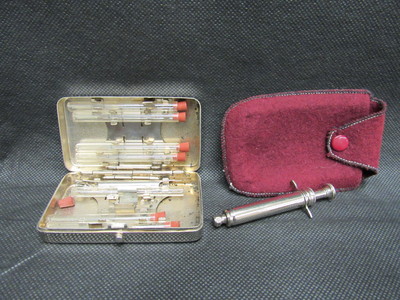 Description
Nurses syringe and vials set belonging to Lucy King who lived in the late 1800's to early 1900's. The company that produced the set was Sharp & Smith based out of Chicago.
Item Type
medical instrument
Dimensions
8.4 x 4.8 x 2, 7 x 2.5 x 1, 10.3 x 6.6 x 1.5,
Dimensions Notes
Item measurements are from left to right. All measurements were taken in centimeters. Measurements are listed as "length by width by height" or "height by diameter" unless otherwise noted.
Creative Commons License

This work is licensed under a Creative Commons Attribution-Noncommercial 4.0 License
Recommended Citation
The Barbara H. Hagan School of Nursing: Historical Collection. (2017). "Nurses Syringe and Vials in Case" [Photograph]. Retrieved from https://digitalcommons.molloy.edu/nur_hagan/36