Preview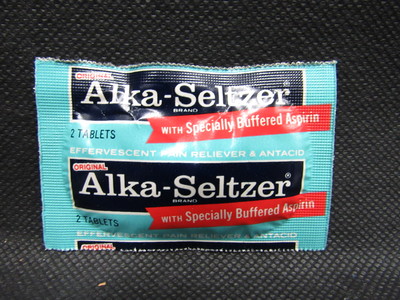 Title
Creative Commons License


This work is licensed under a Creative Commons Attribution-Noncommercial 4.0 License
Description
This is one dose of Alka-Seltzer which contains two tablets which dissolve and fizz in water. Alka-Seltzer is used to treat upset stomach, acid indigestion, heartburn with headaches or body aches and other symptoms that may accompany a cold.
To view a close up of a box of Alka-Seltzer tablets please click on the link below.
Dimensions
7.1 x 0.6 x 4.8
Dimensions Notes
All measurements were taken in centimeters. Measurements are listed as "length by width by height" or "height by diameter" unless otherwise noted.
Recommended Citation
The Barbara H. Hagan School of Nursing: Historical Collection. (2017). "Alka-Seltzer Tablets" [Photograph]. Retrieved from https://digitalcommons.molloy.edu/nur_hagan/230