Preview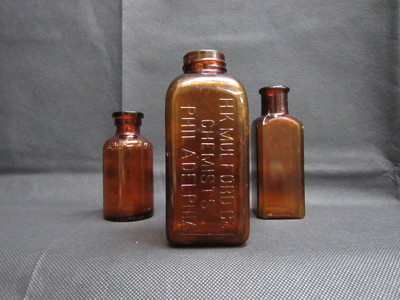 Title
Date
1890's to early 1900's
Description
Amber Medicine Bottles (G-12, G-13, G-11)
Hand blown amber glass medicine bottles from around the 1890's. These Victorian era bottles held medications from the era. At this time, there were probably fewer than 100 medicines used, though the number of medications available during this period were just beginning to grow.
Item Type
medical equipment
Dimensions
10 x 4.7, 5.5 x 5.5 x 13.4, 4.3 x 4.3 x 12.3
Dimensions Notes
Bottle measurements are from left to right. All measurements were taken in centimeters. Measurements are listed as "length by width by height" or "height by diameter" unless otherwise noted.
Creative Commons License

This work is licensed under a Creative Commons Attribution-Noncommercial 4.0 License
Recommended Citation
The Barbara H. Hagan School of Nursing: Historical Collection. (2017). "Bottles: Amber Medicine" [Photograph]. Retrieved from https://digitalcommons.molloy.edu/nur_hagan/2