Preview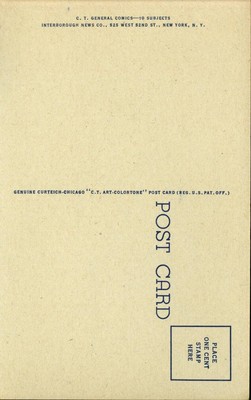 Title
Description
This is an original postcard produced by the Curteich company located in Chicago.
It is entitled "May all your Troubles be Little Ones."
This postcard is described as a "C.T. Art - Colortone" Postcard. The back reads "C. T. General Comics - 10 subjects Interborough News Co., 525 West 52nd St., New York, N.Y." Additionally, the front of the card is marked with the "C-32" and 6A - H1757.
Dimensions Notes
All measurements were taken in centimeters. Measurements are listed as "length by width by height" or "height by diameter" unless otherwise noted.
Creative Commons License

This work is licensed under a Creative Commons Attribution-Noncommercial 4.0 License
Recommended Citation
The Barbara H. Hagan School of Nursing: Historical Collection. (2017). "Postcard G - 1" [Photograph]. Retrieved from https://digitalcommons.molloy.edu/nur_hagan/185