Preview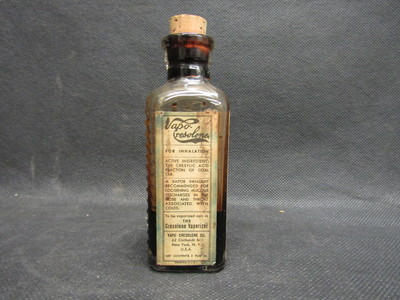 Title
Description
This bottle contains Vapo – Cresolene, a patented medicine that was used for upper respiratory issues. It was transformed into a gaseous state which a patient could breathe in, by use of a patented oil lamp. According to the packaging, this product was designed to treat whooping cough, bronchitis, spasmodic croup, and asthma.
The Vapo – Cresolene Company was located in New York N.Y.
Item Type
medical equipment
Dimensions
3.5 x 3.5 x 10.8
Dimensions Notes
All measurements were taken in centimeters. Measurements are listed as "length by width by height" or "height by diameter" unless otherwise noted.
Creative Commons License

This work is licensed under a Creative Commons Attribution-Noncommercial 4.0 License
Recommended Citation
The Barbara H. Hagan School of Nursing: Historical Collection. (2017). "Vapo - Cresolene Bottle" [Photograph]. Retrieved from https://digitalcommons.molloy.edu/nur_hagan/150