Preview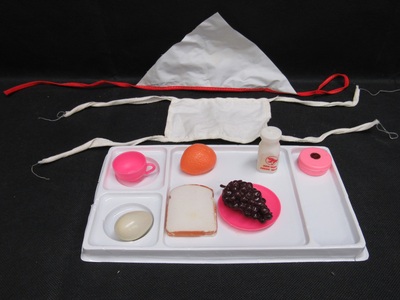 Creative Commons License


This work is licensed under a Creative Commons Attribution-Noncommercial 4.0 License
Description
This is a Deluxe Nurse Kit produced by the Sears Roebuck and Co. as part of their Big Toy Box line. The set was produced in Hong Kong, China and is labeled "49 44525." This set includes a red Nursing bag, a fork, knife, and spoon, two scissors, a tweezer, a thermometer, a stethoscope, a watch, three measuring cups, a box of absorbent cotton, a pill container, a microscope, two dishes, two plastic syringes, a cardboard syringe,3 Curad bandages, a pair of glasses, two drug containers, a nurse cap and mask, a small food tray with plate, cup, milk, egg, orange, bread and grapes, a small canister, and 8 unfolded cardboard boxes designed to hold a candy tonic or remedy for various ailments. The set also includes various reproductions of papers associated with nursing including, Prescription forms, Happytown Health Clinic appointments, patient's Health Record, immunization records, certificates of good health, medical doctor diploma, and register nurse diploma. One of the Certificates of good health and two of the Happytown Health Clinic Appointments have been written in with pencil and have dates in 1975.
To view the cardboard candy tonic or remedy boxes and all the associated paperwork which was part of this set please click on the link below.
Dimensions
32.5 X 12 X 17.3
Dimensions Notes
All measurements were taken in centimeters. Measurements are listed as "length by width by height" or "height by diameter" unless otherwise noted.
Recommended Citation
The Barbara H. Hagan School of Nursing: Historical Collection. (2018). "Toy: Deluxe Nurse Kit - 3" [Photograph]. Retrieved from https://digitalcommons.molloy.edu/nur_hagan/1423