Preview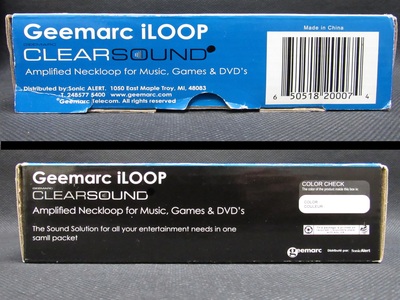 Creative Commons License


This work is licensed under a Creative Commons Attribution-Noncommercial 4.0 License
Description
This is a pair of Geemarc iLoop Clearsound amplified neckloops, which are designed to amplify music, games and DVD's. One was stored in a pull string black velvet bag and the other was stored in the original cardboard box.
Item Type
medical equipment
Dimensions
10 X 13.5 X 2.5, 16.5 X 4.3 X 10.9
Dimensions Notes
Measurements listed are in the following order Bag (with device inside), followed by Box. All measurements were taken in centimeters. Measurements are listed as "length by width by height" or "height by diameter" unless otherwise noted.
Recommended Citation
The Barbara H. Hagan School of Nursing: Historical Collection. (2018). "Hearing Aid: Geemarc iLoop - 2" [Photograph]. Retrieved from https://digitalcommons.molloy.edu/nur_hagan/1099