Preview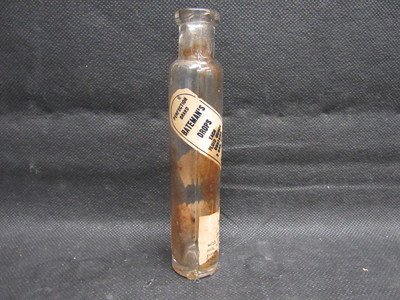 Creative Commons License


This work is licensed under a Creative Commons Attribution-Noncommercial 4.0 License
Description
This is a set of three bottles that have been framed for display. All three show signs of wear but the shortest bottle seems to have barnacles attached to its outside indicated it had previously been left under water this bottle also has raised letters with reading "R.F. Welch Apothecary NY." The other two bottles are very similar in size and shape and have a paper label attached to them. One clearly states "Bateman's Drops" and seems to have been prepared by "Loewy Drug Co. Druggist Baltimore." The other bottle's label is severely damaged but is presumed to have been produced by the same company as borders, designs, and location on the label seems to match.
Item Type
medical equipment
Dimensions
12.7 X 2.6, 3.5 X 2.5 X 8.9, 13 X 2.6
Dimensions Notes
Measurements are of the bottles and are in order from left to right. All measurements were taken in centimeters. Measurements are listed as "length by width by height" or "height by diameter" unless otherwise noted.
Recommended Citation
The Barbara H. Hagan School of Nursing: Historical Collection. (2018). "Bottles: Framed Display - 3" [Photograph]. Retrieved from https://digitalcommons.molloy.edu/nur_hagan/1080