Preview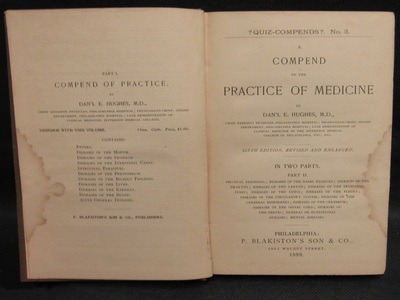 Creative Commons License


This work is licensed under a Creative Commons Attribution-Noncommercial 4.0 License
Description
This is the second part of a textbook for students studying the practice of medicine published by P. Blakiston's Son & Co. of Philadelphia, Pennsylvania. The end sheets of this book feature advertisements for other books for sale by P. Blakiston's Son & Co. Additionally, many of the pages of the book have been badly damaged by insects.
To view Part I of this textbook please click on the link below.
Dimensions Notes
All measurements were taken in centimeters. Measurements are listed as "length by width by height" or "height by diameter" unless otherwise noted.
Recommended Citation
The Barbara H. Hagan School of Nursing: Historical Collection. (2018). "Quiz Compends Practice Part II - 2" [Photograph]. Retrieved from https://digitalcommons.molloy.edu/nur_hagan/1077