Preview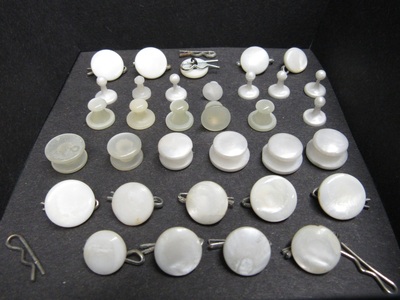 Creative Commons License


This work is licensed under a Creative Commons Attribution-Noncommercial 4.0 License
Description
These are Molloy College School of Nursing uniform studs/ buttons. They are made from plastic, and steel, and were used as buttons for the uniform dresses, and to attach cuffs, and collars to the dress. They were also used to close the nursing cap to make the single piece of fabric take the cap shape.
Number of Pieces
33 complete studs and 3 lose steel clips
Dimensions
0.9 X 0.8 - 1.5 X 1
Dimensions Notes
Dimensions listed is a range featuring the smallest and the largest shown. All measurements were taken in centimeters. Measurements are listed as "length by width by height" or "height by diameter" unless otherwise noted.
Recommended Citation
The Barbara H. Hagan School of Nursing: Historical Collection. (2018). "Uniform: Molloy College Studs/ Buttons" [Photograph]. Retrieved from https://digitalcommons.molloy.edu/nur_hagan/1049