Preview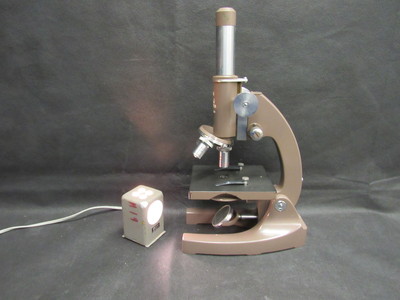 Title
Creative Commons License


This work is licensed under a Creative Commons Attribution-Noncommercial 4.0 License
Description
This is a Propper microscope with a detached illuminator electric light which was used in the Molloy College Biology Lab. The microscope is made from steel and contains a rotating mirror below the stage and three objective lenses on a revolving nose piece. The back of the base is labeled with the number "22" written in red marker and the front side of the tube is engraved with "Propper No. 52229." The detached illuminator electric light is marked with the "M 19" in red marker and a plaque that reads "Anchor Optical Co. Haddon Heights, N.J." Both the Propper microscope and illuminator electric light were housed in a Propper Microscope box which also contained a Propper guarantee card.
To view the associated microscope box and guarantee card please click on the link below.
Item Type
medical equipment
Dimensions
4.9 X 5.4 X 8, 11 X 20 X 36.5
Dimensions Notes
Measurements are in the following order illuminator followed by Microscope. All measurements were taken in centimeters. Measurements are listed as "length by width by height" or "height by diameter" unless otherwise noted.
Recommended Citation
The Barbara H. Hagan School of Nursing: Historical Collection. (2018). "Propper Microscope" [Photograph]. Retrieved from https://digitalcommons.molloy.edu/nur_hagan/1044