Preview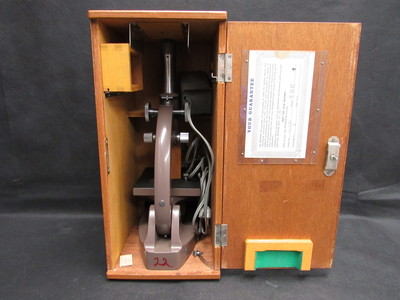 Title
Creative Commons License


This work is licensed under a Creative Commons Attribution-Noncommercial 4.0 License
Description
This is a Propper microscope box which houses a Propper microscope which was used in one of Molloy Colleges Biology Labs. The box is made from wood, has a metal handle on the top with a key and screwdriver wedge tied to it. A bolt holds the microscope in place for safe transport. A metal tag is nailed into the cover of the box and reads "Propper Model SDA." Besides the microscope, the inside of the box holds a removable vial holder in the top left, the microscope light, and a Guarantee card. parts of the inside of the box are lined with green felt for padding.
To view the associated microscope and guarantee card please click on the link below.
Item Type
medical equipment
Dimensions
11 X 20 X 36.5
Dimensions Notes
All measurements were taken in centimeters. Measurements are listed as "length by width by height" or "height by diameter" unless otherwise noted.
Recommended Citation
The Barbara H. Hagan School of Nursing: Historical Collection. (2018). "Propper Microscope Box" [Photograph]. Retrieved from https://digitalcommons.molloy.edu/nur_hagan/1039