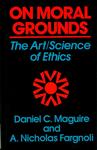 Description
From the introduction:
Our age can lay claim to a unique moral chaos. Modernity badgers us with perplexing moral questions: Can good ethics and good business ever coincide? Should medical science do all the things that it now can do? Is truth-telling always a virtue? If it is, how can one maintain professional or personal confidentiality? Is honesty always the best policy? What are the proper criteria for the journalistic media when it comes to reporting the real news and avoiding sensationalism? Should there be an "ethics committee" in government, in business, in hospitals, in law firms, or in financial centers? How would an ethics committee function in such places?
Creative Commons License


This work is licensed under a Creative Commons Attribution-NonCommercial-No Derivative Works 4.0 International License.
Files
Download Title Page & Table of Contents (1.5 MB)
Download Introduction (2.9 MB)
Download 1: The Basis of Moral Choice (7.8 MB)
Download 2: The Structure of the Foundational Moral Experience (4.8 MB)
Download 3: Doing Justice to Justice (4.2 MB)
Download 4: Ethics as the Strategy of Justice and Love (3.3 MB)
Download 5: Routes to Moral Reality (4.9 MB)
Download 6: The Reality-revealing Questions (16.2 MB)
Download 7: Ethics in Dialogue (2.8 MB)
Download 8: Creative Imagination (6.7 MB)
Download 9: The Wisdom of the Heart (6.4 MB)
Download 10: Reason and Reliance (7.0 MB)
Download 11: THe Nature of Moral Principles (8.9 MB)
Download 12: Individual Knowledge and Group Knowledge (7.6 MB)
Download 13: The Comic and the Tragic in Ethics (8.5 MB)
Download 14: Conscience (4.2 MB)
Download 15: Conscience and Guilt (7.3 MB)
Download 16: Hazards and Pitfalls (10.7 MB)
Download Glossary (2.3 MB)
Download General Bibliography (2.8 MB)
Download Index (4.5 MB)
Recommended Citation
Fargnoli, A. Nicholas Ph.D. and Maguire, Daniel C., "On Moral Grounds: The Art/Science of Ethics" (1991). Faculty Open-Access Books. 1.
https://digitalcommons.molloy.edu/fac_book/1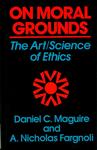 COinS